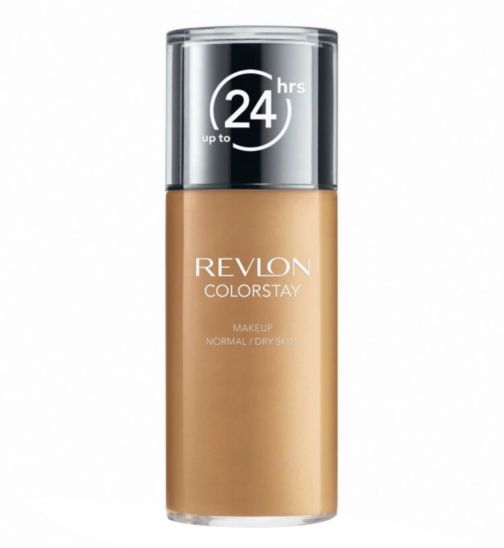 I'd been meaning to try this foundation out for quite a while now, but every time I went to the shops a new release, claim or a recent review I'd read always made me opt for something else. I'd been seeing over and over that
Revlon Colour Stay Foundation
was a reliable favourite for many, but because it's been around for so long, you never really hear much about it.
Having come quite low on nearly every last bit of every day makeup, I needed to stock up on some basics and this ended up in my basket for the cheeky little price of £6.49. Never in my life have I spent a mere £6.49 on a foundation and loved it so much. If I we're you, I'd stop what you were doing and head to Boots RIGHT NOW to stock up. Well, after you finish reading this post of course.
The thing I noticed first off about the Colour Stay foundation is the range of shades it comes in. Being so fair skinned, I often struggle getting a good colour match, but the shade Ivory is perfect for me. The only thing that bugs me about this is that it doesn't have a pump. BUT I did see on a recent Instagram post by Revlon that they are now releasing bottles with pumps, I must have just missed out on getting one of the new batches. Maybe that's why the price is reduced, to make way for the pumps? Who cares, its half price, live with it.
The next thing was the application. I'm becoming more and more lazy when it comes to application first thing in the morning, and while I know the finish of a beauty sponge is to die for, I definitely don't have the effort at 7 am when a cat is nibbling at my toes. This applies evenly and effortlessly with a real techniques buffing brush quickly buffed in all over the face, or even with just my fingers – (although this is a risky business for me when I mainly wear black to work).
The finish is mattifying without looking caked on. It covers all the redness & blemishes that I need it to, although I do have to go in again with something a little stronger to tackle those under eye bags, but who doesn't? It's not one of those foundations that fades away in patches either. Whilst I do see a little wear, it's nothing too dramatic. If anything, its because I'm a notorious face rubber that it begins to fade by the end of the day.
As an everyday foundation, I couldn't ask for anything better. It's just enough coverage and lasts as long as I need it to. Reliable, easy to wear and affordable.
What are you waiting for? Snap it up whilst you can!